This page contains all the MicroMite products and kits available from Rictech.
If you are a New Zealand customer, please
Contact
us directly, for slightly cheaper prices, as all prices listed here are aimed at an international audience and include international shipping costs that can be avoided for any New Zealand customers reading this.....
COLOUR MAXIMITE 2!!!
The latest offering for the Maximite series of computers - the new all powerful CMM2, Generation 2.

IN STOCK: 00 - Sorry, sold out!
The Color Maximite 2 (CMM2) is a small self-contained computer inspired by the home computers of the early 80's such as the Tandy TRS-80, Commodore 64, Atari and Apple II. It includes its own BASIC interpreter and powers up instantly into the BASIC interpreter (there is no operating system to boot). The emphasis is on ease of use and, as a result, a first time user could enter a small program and have it running within minutes.
While the ease-of-use and built-in BASIC concept is borrowed from computers of the 80's the technology used is very much up to date. The CPU that powers the Color Maximite 2 is an ARM Cortex-M7 32-bit RISC processor running at up to 480MHz with 2MB flash memory and 1MB RAM. This processor includes its own video controller and generates a VGA output at resolutions up to 1920x1080 pixels and with up to 24-bit color. Despite this unit running a BASIC programming interpreter(which is usually considdered slow), the CMM2 can process your program at more then 200,000 lines per-second. That is very, very fast!
The Color Maximite is designed to be simple and fun. Our version of the Color Maximite 2 is the same as the kit version from magazine articles, except that ours is an assembled board.
Some features of the CMM2:
Extremely fast 480MHz ARM processor with 516KB of program memory and 24MB general purpose RAM.
VGA output with five resolutions from 1920x1080 pixels to 240x216 pixels with up to 24-bit colour (16M colours).
USB Keyboard (can be wireless with a USB dongle).
Mouse support added to the G2 version of the design
Support for SD cards up to 128GB formatted in FAT16, FAT32 or exFAT.
Extensive features for creating computer games. These include multiple video planes, support for Blits and Sprites and full support for the Nunchuk a game controller.
Stereo audio output can play WAV, FLAC and MP3 files, computer generated music (MOD format) and robot speech and sound effects.
Twenty eight input/output pins with 12 capable of analog input. Connector is compatible with Raspberry Pi Hats.
Power is 5 volts at 170mA typical (ie, from an USB port or charger).
YOU WILL REQUIRE 1x CR 1220 BUTTON-CELL BATTERY.
We cannot include this, as batteries are a prohibited item.
Please select your combo options from the PayPal button below, or you can order the case+panels or just the panels seperately, but you will pay additional shipping costs. All costs include the PayPal fees. EMS tracked shipping is the only option for this product, and will be added to your order at the checkout. Once the order is complete, we will email you the tracking number for your order.
CMM2 case and panels set
This is an empty case and panels set for the new CMM2 unit.
Photos show a CMM2 fitted, but that is ONLY FOR ILLUSTRATION, AND IS NOT INCLUDED.

US$30 including case, front & rear panel set, PayPal fee and airmail to most areas of the planet.
CMM2 case front/rear panel set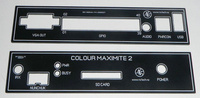 One front panel and one rear panel for the CMM2 case, for those who already have a case.

US$8 including airmail(and PayPal fee) to most areas.
SMART DECODER UNIT(SDU)
This unit can decode transmissions from most FOB transmitters, including the common 1527 and 2262/2264 encoders often found in wireless FOB buttons or other wireless transmitters these days. The code automatically deals with the white-noise on the receiver data output when there is no valid data. The IRQ line is pulsed for 100mS when a valid data packet is received and decoded, to signal to the host system that data has been received, although, most modern MCU's UART buffers can deal with this without needing an IRQ line, but as there are plenty of spare pins on the MM2 in this application......why not! ;) Please note that this unit CANNOT decode transmitters based on Microchip's HCS300 encoder. We might add support to this in a future MMBASIC code release, but it is not currently planned.

The DIL switch can select between various output mode or serial baud-rates. Output formats are numeric, ASCII-HEX and ASCII-binary. Baud-rate is selectable between 2400 and 9600 to suit most microcontrollers.

The heart of the decoder was written by Robert Rozee' of PIC32PROG and GFXterm fame, and is used with permission. Thank you Rob! You can CTRL-C into the code via the USB console, to examine how it works.

The unit comes fully assembled, programmed and ready to use. The source MMBASIC code is available on request, but the easiest way to get it, is to CTRL-C into the running board via the USB interface, and simply copy the code out of the chip. :) The MMBASIC code for this decoder unit is freeware.

The antenna input is a standard SMA female.

US$25

SHIPPING OPTIONS PayPal choices below INCLUDE this module AND the chosen shipping method.
MicroMite Wireless Node 1A...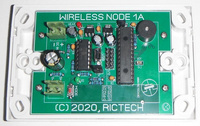 This is a kit of parts to assemble ONE wireless node. The kit comes complete witll all parts, and also a blank white wall-plate to assemble it into. It is designed to mount on the wall, on a standard PDL/HPM/Clipsal flush box as used in Australia and New Zealand. The mounting holes also mean it will fit on an American flush-box, but you might need to file the holes just a little.

The unit was designed to act as a wireless data node in a network of others. The wireless module used is the very common HC12 RF module, and the module supplied with the kit is guaranteed genuine and not a clone.

Setup of the HC12 module is done in software on the MicroMite from the command-prompt with the aid of a subroutine. This is available from the Downloads section of our website, along with a demonstration code.

There are a total of five surface-mount parts to fit including the HC12 module, but they are all easy to solder.

The builder is required to write their own MicroMite controller code to best suit their intended application. Rictech does not supply customized codes for this unit, but this does give the builder a chance to practise their MicroMite programming skills. ;)

Both the 1455 USB interface chip and the MicroMite chip are supplied pre-programmed.

US$53 including airmail to most areas of the planet.
GENUINE HC-12 RF Module
This is the GENUINE HC12 module, sourced from the hc01 factory in China. Guaranteed not to be a clone or fake module as is the case with many of the listings on eBay or AliExpress these days. Clone modules are off-spec with their frequency, and will not operate correctly in the same network as other genuine HC12 modules becasue of this frequency error. To be sure you are using the genuine article and have the minimum number of problems with your HC12 network, purchase only original modules sourced from the manufacturer.

For details on the problems with the clone HC12 modules and the problems they can cause for you, please see this forum thread:
https://www.thebackshed.com/forum/forum_posts.asp?TID=10443&PN=1

Each module comes complete with small helical antenna.

US$8.50 each including airmail shipping to anywhere.
Please contact us for bulk discount if you want more then ten.

COVID19 has resulted in the price of this item increasing due to the global economy downturn.

MORE ARRIVING SOON!

Backorders accepted.

MicroMite Explore-28 module
LATEST MODEL!!! Version 1D.

This is a fully assembled E28 module. The module contains a USB interface, and you can program the firmware into the chip at the heart of the module, using just this module itself, and pic32prog ASCII programmer tool. The MicroMite itself can also be used to update the code in the USB interface chip(should that ever be required), making for one complete, simple, cheap solution.

Designed to be the same size as an Arduino Nano, it is only 38mm x 17mm in size.

DRIVER FILES:
Driver files are available for this module for use under Windows XP, Windows 7 or Windows 8.
You must have SP3 installed on your XP machine. Unzip the files, and run the driver installation tool exe file. You can download the ZIP file from our Downloads page. This driver will not work with versions of Windows earlier then XP, so Win95/Win98/WinMe are NOT supported. Both 32-bit and 64-bit drivers are included. This driver may also be used with Windows 7 and Windows 8. Windows 10 has native support for this USB chip, so no drivers are needed for Windows 10 machines. Linux should see this module as a USB-serial adaptor, and locate it under /dev. Usually shows up as /dev/ttyACM0 then you can talk to it using Minicom or similar.

US$40 including airmail(and PayPal fee) to anywhere on the planet.

Built to order with a lead-time of aproximately one week.
E28 Blank PCB, Panel of five.
A panel of five blank E28 module PCB's, for those who wish to source all the parts and build them.
Bill of materials etc, are in the E28 Constructors Pack in our DOWNLOADS section.

US$18.50 including PayPal fee and airmail.
MicroMite Explore 64 Version 1E - FULLY ASSEMBLED MODULE
This is the latest version 1F module. It has a 1455 interface included on-board, so you can directly connect to USB without the need for the daughter-board, and with the aid of a free programming software, you can program any new version of MMBASIC into the module without needing anything other then the utility and a USB cable.

It is designed around a four-layer PCB, and includes footprints for the common W25Q SPI memory chips, as well as a Microchip UNIO chip in SOT-23. Neither of these are supplied by defualt, but can easily be added by the constructor if wanted. Standard Explore-64 functions remain the same, the most obvious included feature being the inclusion of the 1455 interface without the need for an add-on daughterboard.

Supplied fully assembled and tested.

US$80 including airmail to anywhere on the planet.
COVID19 has resulted in the price of this item increasing slightly due to the global economy downturn. We will restore the price once the economy recovers.

Built to order with a lead-time of approximately one week.
MicroMite Explore 100 - FULL KIT OF PARTS
This is a full kit of parts for Geoff's Explore-100 TFT board. It includes everything you need to assemble a fully operational board. The kit includes the four-layer PCB, and THE SURFACE-MOUNT PARTS HAVE BEEN FITTED FOR YOU so you don't have to worry about soldering these if you are not too keen on SMD. The PIC32MX470F512L (whew!) QFP chip at the heart of this product is the 120MHz part, and it comes pre-programmed with the latest version of MMBASIC, so once you assemble the kit, the unit is ready to use right away - no HEX file programming or PICkit3 required.

The latest model(version 1D) includes a 1455 USB connection to the MM Console, and it's built-in ICSP so you can program the PIC32 chip WITHOUT a PicKit-3 or Microchip's IPE! All you need is the free pic32prog utility to easily upgrade the MM firmware.

The board with the pre-fitted SMD will be supplied sealed in an anti-static bag, and constructors are reminded that full anti-static precautions need to be observed when handling this board outside of it's static sheilding bag. Incorrect handling of the board or assembly of this kit is not covered by any warranty offered by Rictech Ltd.

The kit DOES NOT include the 5" LCD module. These can be had very easily from eBay or AliExpress for about US$50 including shipping - search for 5" TFT SSD1963.

This kit DOES NOT include the RTC & MEMORY module, the Piezo for the touch-click or the USB-Serial module for above CON6 as these are optional extras.

Shipping options below, are the kit plus the shipping option, not just the cost of shipping. Sorry for the confusion this has caused some visitors.

COVID19 has resulted in the price of this item increasing slightly due to the global economy downturn. We will restore the price once the economy recovers.
MicroMite Plus Explore 64 - Blank PCB(panel of three)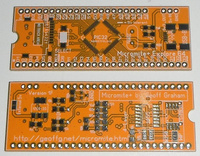 A panel of three blank MM+ PCB's for building the MicroMite Plus Explore 64 module.
The boards sent will always be the most up to date version. Current version of this board is 1F.

PLEASE NOTE that the 1455 SOIC chip must be programmed before you install it. There was no room for the ICSP connector on this board due to its small size. You can install an SOIC MCP2221A chip as a direct drop-in replacement if you can't program an SOIC 1455 chip, but the serial activity LED won't work.

Shipping options below, are the product plus the shipping option, not just the cost of shipping. Sorry for the confusion this has caused some visitors.
MicroMite Explore 100 - Blank PCB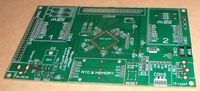 This is the blank four-layer PCB for Geoff's Explore-100 TFT module.

NOTE: If you are just ordering this PCB (and no other products), AND you are based in UK or Europe, then please visit our UK based partner who will have shorter delivery timescales, and lower shipping costs (when compared to despatch from our main New Zealand Warehouse).

Shipping options below, are the product plus the shipping option, not just the cost of shipping. Sorry for the confusion this has caused some visitors.
E100 and Micromite Backpack port tester PCB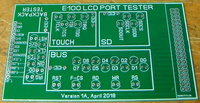 This PCB can be used to test that all the pins are intact and working correctly via LED's. Designed to plug directly into the LCD port of an E100 board, or by flipping the board 180 degrees, you can also use it to check the connections on an SPI-LCD-based Micromite Backpack unit. The backpack port tester can also be used to test ANY supported SPI LCD module with touch, but you will need to change the tester code to reflect you chosen pins. This is just the PCB - you will need to supply the components: 4x 3k3 standard resistors, 29x super-bright LED's, 1x 40-pin(2x20) box-header(standard 2.54mm pitch), 1x pin-strip(14w). Use 1k resistors instead of 3k3 if you are using standard LED's. MMBASIC code to run this tester on an E100 or Micromte Backpack can be downloaded from our Downloads page.

Shipping options below, are the product plus the shipping option, not just the cost of shipping. Sorry for the confusion this has caused some visitors.
Pi-Cromite blank PCB.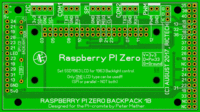 This PCB is used to host a Raspberry Pi Zero, and to run the 'PI-Cromite' port of MMBASIC by Peter Mather. With this board and a Raspberry Pi Zero module, you can run a version of MMBASIC that has been customized to run specifically on the Raspberry Pi Zero board. The Pi Zero mounts directly to this PCB, and the pins are all routed out to useful connectors for MMBASIC features. You can install this board on either a parallel LCD or an SPI LCD. Please see https://www.thebackshed.com/forum/forum_posts.asp?TID=9847&KW=Picromite for details on the board. For details on the Pi-cromite port of MMBASIC by Peter Mather, please see this thread: https://www.thebackshed.com/forum/forum_posts.asp?TID=9487 This is the very first post by Peter about the Pi Zero port, so just follow your nose from there. There have been many more threads about this port and improvements as Peter developes the code.

$7.50 including Airmail postage to anywhere.
EastRising LCD module adaptor PCB
This adaptor PCB remaps the EastRising 7", 8" or 9" LCD modules, to the more standard 40-pin header used by many other 5" and 7" TFT modules available on the net. Supplied with the female sockets, and male pin-strips ready for you to assemble.

Shipping options below, are the product plus the shipping option, not just the cost of shipping. Sorry for the confusion this has caused some visitors.