This page contains all the MicroMite products and kits available from Rictech.
If you are a New Zealand customer, please
Contact
us directly, for slightly cheaper prices, as all prices listed here are aimed at an international audience and include international shipping costs that can be avoided for any New Zealand customers reading this.....
ALL PayPal BUTTONS THAT OFFER DIFFERENT SHIPPING OPTIONS, ARE THE ITEM PRICE AND THE SHIPPING PRICE TOGETHER - The PayPal shipping options are NOT just the shipping prices alone. Sorry for the confusion this may have caused to some visitors. :(
ASCII ICSP kit for Micromite and other PIC32 MCU's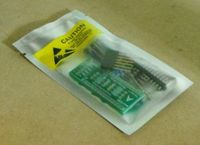 The kit includes an Arduino Nano module, pin-headers, Rob's small adaptor PCB, a 6-way female header socket for the output, and all other components required for you to build a complete ASCII ICSP programmer unit. Robert Rozee has prepared excellent assembly instructions specifically for this kit, and they can be downloaded from our DOWNLOADS section of the site.
USB cable NOT included!

MicroMite Explore-28 module
LATEST MODEL!!! Version 1C.

This is a fully assembled E28 module. The module contains a USB interface, and you can program the firmware into the chip(SOIC on the 1C) at the heart of the module, using just this module itself, and pic32prog ASCII programmer tool. The MicroMite itself can also be used to update the code in the USB interface chip, making for one complete, simple, cheap solution. More photos of the 1C will be added soon.

Designed to be the same size as an Arduino Nano, it is only 38mm x 17mm in size.

DRIVER UPDATE:
Driver files are now available for this module for use under Windows XP, Windows 7 or Windows 8.
You must have SP3 installed on your XP machine. Unzip the files, and run the driver installation tool exe file. You can download the ZIP file from our Downloads page. This driver will not work with versions of Windows earlier then XP. Both 32-bit and 64-bit XP drivers are included. This driver may also be used with Windows 7 and Windows 8. Windows 10 has native support for this USB chip, so no drivers are needed for Windows 10 machines. Linux users should not need any driver, as Linux should see this module as a USB-serial adaptor, and locate it under /dev. Usually shows up as /dev/ttyACM0 then you can talk to it using Minicom.

US$12.00 + US$2.50 P+P
MicroMite Plus Explore 64 - Blank PCB(panel of three)
A panel of three blank MM+ PCB's for building the MicroMite Plus Explore 64 module.
The boards sent will always be the most up to date version. Current version of this board is 1C.
MicroMite Plus Explore 64 - FULL KIT OF PARTS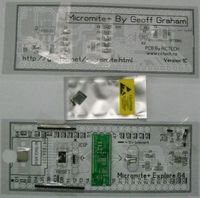 This is a full kit of parts to build the complete module. It includes a blank PCB and all parts needed for you to assemble a fully functional unit. Please note that you will need to program the PIC32 chip once assembled, and you will need a PicKit-3 or the ASCII ICSP programmer unit for this - the chip supplied is a virgin IC, and does not come pre-programmed. The PIC32 supplied will be the 120MHz part. This kit requires that you have suitable SMD(surface-mount device) soldering ability, and the pin spacing on the PIC32 chip is 0.5mm, so you need to be comfortable soldering this pin-pitch before you should consider buying the kit of parts. Correct anti-static handling procedures are also essential to prevent damage to the PIC32 TQFP chip. If you are in any doubt about your ability to assemble this kit, please buy the fully assembled, programmed and tested module instead.

INCORRECT ASSEMBLY OF THIS KIT IS NOT COVERED BY ANY FORM OF WARRANTY OFFERED BY RICTECH! For advanced or experienced constructors only.
MicroMite Plus Explore 64 - ASSEMBLED MODULE
This is a fully assembled and tested MM+ module, pre-programmed with the latest version of the firmware, and is ready to use directly out of the box.
MicroMite Explore 100 - Blank PCB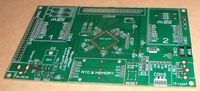 This is the blank four-layer PCB for Geoff's Explore-100 TFT module.

NOTE: If you are just ordering this PCB (and no other products), AND you are based in UK or Europe, then please visit our UK based partner who will have shorter delivery timescales, and lower shipping costs (when compared to despatch from our main New Zealand Warehouse).
MicroMite Explore 100 - FULL KIT OF PARTS
This is a full kit of parts for Geoff's Explore-100 TFT board. It includes everything you need to assemble a fully operational board. The kit includes the four-layer PCB, and THE SURFACE-MOUNT PARTS HAVE BEEN FITTED FOR YOU so you don't have to worry about soldering these if you are not too keen on SMD. The PIC32MX470F512L (whew!) QFP chip at the heart of this product is the 120MHz part, and it comes pre-programmed with the latest version of MMBASIC, so once you assemble the kit, the unit is ready to use right away - no HEX file programming or PICkit3 required.

The latest model(version 1D) includes a 1455 USB connection to the MM Console, and it's built-in ICSP so you can program the PIC32 chip WITHOUT a PicKit-3 or Microchip's IPE! All you need is the free pic32prog utility to easily upgrade the MM firmware. The PIC32 and the 1455 come pre-programmed in the new kit. The 1D boards also now include a micro-SD card slot on-board, so no more need for CON10 or the external add-on SD card kit, and said kit is not supported on the 1D circuit boards.

The board with the pre-fitted SMD will be supplied sealed in an anti-static bag, and constructors are reminded that full anti-static precautions need to be observed when handling this board outside of it's static sheilding bag. Incorrect handling of the board or assembly of this kit is not covered by any warranty offered by Rictech Ltd.

The kit DOES NOT include the 5" LCD module. These can be had very easily from eBay or AliExpress for about US$50 including shipping - search for 5" TFT SSD1963.

This kit DOES NOT include the RTC & MEMORY module, the Piezo for the touch-click or the USB-Serial module for above CON6 as these are optional extras.

SD card add-on board kit for E100
This is a small add-on PCB with SD socket for the E100. It can also be used with the E64 if you wish.
This board connects to CON10 on the E100 board, via eight DuPont linking wires(not supplied).
The kit includes the PCB, SD-card socket, resistors, LED, pin-header and capacitor.
Everything you need to assemble the complete unit, in other words.
YOU ONLY NEED THIS KIT FOR THE OLDER 1B E100 BOARDS!
The newer 1D version of the E100 includes a micro-SD card socket on-board.
You can use Micro-SD cards in this board, by simply using one of those dime-a-dozen Micro-SD to Full-size SD card adaptors. The SD card socket is a spring-loaded push-in/push-out type.
4GB SD CARD AND THE EXAMPLE E100 IN THE BACKGROUND IN THE IMAGES ARE NOT INCLUDED!
$5 per kit + $2.50 P+P
==== COMING SOON: ====
1455 DIL or SOIC USB-to-serial interface chip
This is a PIC16F1455 chip, pre-programmed with the USB-Serial code. This chip also provides the ICSP feature, meaning that you can re-program a new HEX firmware into your favourite Micromite WITHOUT the need for a PicKit3 or the Microchip IPE. All you need to program a new HEX file firmware, is an active USB connection and the correct connections to the target PIC32 device. All PIC32 chips are supported, including the MM2, MM+ and MMX. Chip only. Will be supplied in a static-proof bag. Please specify which one you want when purchasing.(DIL or SOIC) Price will be $5 including airmail postage anywhere on the planet for SOIC, or $10 for the DIL(as it exceeds the thickness limit for a DLE envelope). Please contact us for bulk discount shipping on the DIL package. Unfortunately, postage out of New Zealand is expensive if thicker then about 10mm..... :(
28-pin DIL or SOIC MicroMite-2 MCU(micro-controller unit)
This is the 28-pin MCU pre-programmed with the latest MMBASIC firmware for the MicroMite-2.
Available in 28-pin DIL or SOIC packages. Please state which package you want in your order. $7.50 including airmail for the SOIC anywhere on the planet. DIL is $12. Postage out of New Zealand is expensive once you get thicker then about 10mm.... :(