MicroMite Plus Explore 64 - FULL KIT OF PARTS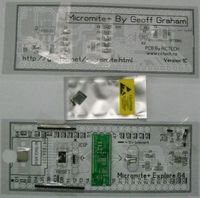 This is a full kit of parts to build the complete module. It includes a blank PCB and all parts needed for you to assemble a fully functional unit. Please note that you will need to program the PIC32 chip once assembled, and you will need a PicKit-3 or the ASCII ICSP programmer unit for this - the chip supplied is a virgin IC, and does not come pre-programmed. The PIC32 supplied will be the 120MHz part.
This kit requires that you have suitable SMD(surface-mount device) soldering ability, and the pin spacing on the PIC32 chip is 0.5mm, so you need to be comfortable soldering this pin-pitch before you should consider buying the kit of parts.
Correct anti-static handling procedures are also essential to prevent damage to the PIC32 TQFP chip. If you are in any doubt about your ability to assemble this kit, please buy the fully assembled, programmed and tested module instead.
INCORRECT ASSEMBLY OF THIS KIT IS NOT COVERED BY ANY FORM OF WARRANTY OFFERED BY RICTECH! For advanced or experienced constructors only.