MicroMite Wireless Node 1A...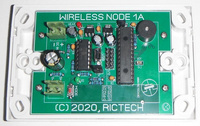 This is a kit of parts to assemble ONE wireless node. The kit comes complete witll all parts, and also a blank white wall-plate to assemble it into. It is designed to mount on the wall, on a standard PDL/HPM/Clipsal flush box as used in Australia and New Zealand. The mounting holes also mean it will fit on an American flush-box, but you might need to file the holes just a little.
The unit was designed to act as a wireless data node in a network of others. The wireless module used is the very common HC12 RF module, and the module supplied with the kit is guaranteed genuine and not a clone.
Setup of the HC12 module is done in software on the MicroMite from the command-prompt with the aid of a subroutine. This is available from the
Downloads
section of our website, along with a demonstration code.
There are a total of five surface-mount parts to fit including the HC12 module, but they are all easy to solder.
The builder is required to write their own MicroMite controller code to best suit their intended application. Rictech does not supply customized codes for this unit, but this does give the builder a chance to practise their MicroMite programming skills. ;)
Both the 1455 USB interface chip and the MicroMite chip are supplied pre-programmed.
US$53 including airmail to most areas of the planet.