All other products and kits for sale by Rictech are here.
ASCII ICSP kit for Micromite and other PIC32 MCU's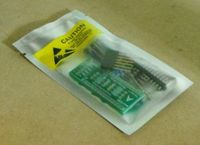 The kit includes an Arduino Nano module, pin-headers, Rob's small adaptor PCB, a 6-way female header socket for the output, and all other components required for you to build a complete ASCII ICSP programmer unit. Robert Rozee has prepared excellent assembly instructions specifically for this kit, and they can be downloaded from our DOWNLOADS section of the site.
USB cable NOT included!